Meet Dr. Hester Potts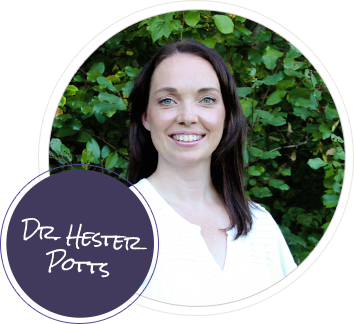 From a young age, Dr. Potts had an interest in chiropractic care. After experiencing her first chiropractic appointment at age 15, she knew that this was the career for her. As an avid runner, she saw her shin splints clear up firsthand as well as a vast improvement in her overall health. From then on, she knew her goal in life was to do what that chiropractor did for her—to heal clients naturally, improve their lives and educate them along the way!
An Education in Chiropractic
Originally from Nepean, Ottawa, Dr. Potts is ecstatic to be back in the area helping local families heal better with natural and focused chiropractic care. After graduating from McMaster University in Hamilton, Canada where she achieved a Bachelor's Degree in Kinesiology, she made her way to Europe to study chiropractic care in England. After graduating Chiropractic College in 2004, she worked as an associate for 3 years and then opened a chiropractic office in England in 2008, which she still owns and manages today.
Outside of the Practice
When she isn't changing lives in the practice, Dr. Potts enjoys spending time with her husband, Ian, and three young sons—all of whom have been under chiropractic care since birth. She enjoys spending time outdoors and is still an avid runner. Dr. Potts is excited to be back in the Riverside South community and looks forward to serving those who she holds near and dear to her heart.
Learn more about Dr. Potts and how she can help your family by contacting our practice today to book your first appointment. We look forward to meeting you!

Chiropractor Riverside South | (613) 425-0915