Pregnancy Chiropractic in Riverside South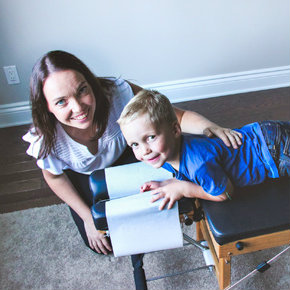 At Ottawa Family Chiropractic we are pleased to offer chiropractic care to women during pregnancy. Dr. Potts has been trained to provide safe chiropractic care to pregnant women. Additionally, Dr. Potts is a member of the International Chiropractic Pediatric Association. She will utilize gentle techniques to ensure that you have effective and comfortable chiropractic care.
Having 3 children of her own, Dr. Potts has first hand experience of the benefits of chiropractic care throughout all of her pregnancies. She attributes her 3 drug-free, home births to her regular chiropractic care.
Potential Benefits of Chiropractic Care During Pregnancy Include:
Maintaining a healthy pregnancy
Reducing the time of labour and delivery
Relieving back, neck and joint pain
Controlling symptoms of nausea
Preventing a possible cesarian section
Relieving Constipation
Safer Deliveries
The International Chiropractic Pediatric Association recommends women receive chiropractic care throughout pregnancy to establish pelvic balance and optimize the room a baby has for development throughout pregnancy. Optimal baby positioning at the time of birth eliminates the potential for dystocia (difficult labour) and, therefore, results in easier and safer deliveries for both mother and baby.
Dr. Potts is Webster Certified practitioners.
Chiropractic Care for Babies and Children
Most children encounter many physical stresses during the birth process and their growing years. Even the most natural of deliveries can cause misalignments in the baby's spine and nervous system. Minor falls or sports injuries can also negatively impact a child's developing spine and nervous system.
The cause of many newborn health complaints such as colic, reflux, breastfeeding difficulties, sleep disturbance, allergic reactions and chronic infections can often be traced to nervous system irritation caused by spinal misalignments. As children develop issues such as difficulties with crawling and walking, bedwetting, difficulty focusing, difficulty sleeping, asthma, hormone imbalances, etc can all indicate nerve system interference.
Find Out More
Dr. Potts has helped many pregnant women, babies, and children throughout her career. Dr. Potts has also been adjusting her 3 children from birth. If you would like to find out more information on how chiropractic care can help during your pregnancy and/or your children please contact us.
CONTACT US

Pregnancy Chiropractic Riverside South | (613) 425-0915